Top Five Budget-Friendly Espresso Machines
A high-quality espresso machine can be a pricey proposition, but you don't have to lay out a fortune to pull a decent shot. If your main goal is to make your own espressos, lattes and cappuccinos at home, these sub-$200 machines will suit your palate and your budget.
No one is going to win the World Barista Championship using them, but if you couple one of these with a good coffee grinder and excellent coffee, you'll definitely get a better-than-decent shot of espresso.
Our Criteria:
In putting together our list of budget-friendly espresso machines, we looked for espresso makers that cost less than $200, are powered by a 15-bar pump and, since most people want to make lattes and cappuccinos, are equipped with a steam wand. We included both machines that we've used personally and machines that have been rated highly by other trusted reviewers, including Consumer Reports and Whole Latte Love.
The Espresso Machines
Best Very Cheap Espresso Machine – Delonghi EC55 Espresso and Cappuccino Maker
Priced at less than $100, the Delonghi EC55 delivers a lot of value for very little money. It features a 15-bar pump and a 35-oz. water tank. Its stylish, small footprint makes it a favorite with consumers who value appearance, and its ability to deliver thick, rich crema make it popular with espresso lovers. The Delonghi EC55 uses either ESE pods or ground coffee, and can make lattes and cappuccinos in addition to espresso. The major complaints from consumers are that the steam wand is poorly positioned, and has very low clearance, so it's difficult to fit a steaming pitcher beneath it. Overall, though, it gets very high ratings for espresso, crema, style and price. It's a great choice as an entry level espresso maker for someone on a very limited budget.
Affordable Convenience Mr. Coffee Café Barista Espresso/Cappuccino Maker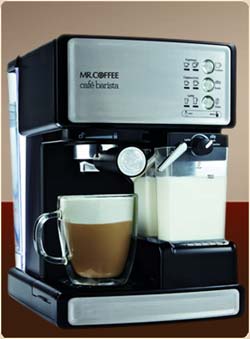 Mr. Coffee may be one of the best-known names in budget coffee makers, but their espresso makers have traditionally fallen short of high-end consumers' expectations. There are two exceptions – the Mr. Coffee ECMP50, and this machine, the Mr. Coffee Café Barista. At just over $150, the Mr. Coffee is on the higher end of our budget scale, but it delivers features usually only found on high-end super-automatic espresso machines. Those features include a 15-bar pump, an automatic milk frother with a removable carafe that can be stored in the refrigerator, touch screen selection to choose between one and two shots, cappuccino or latte, and an automatic one-button clean cycle. If you love coffeehouse style drinks, but hate the fussy attention to detail that most expensive espresso makers require, the Mr. Coffee Café Barista is the machine for you.
Stylish and Versatile Nespresso Citiz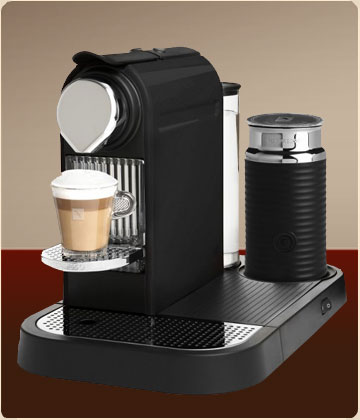 While the Nespresso Citiz doesn't have an attached steam wand, the versatile pod espresso machine is bundled with the Aeroccino automatic milk frother, which automatically froths either hot or cold milk for lattes and cappuccinos. The very stylish Nespresso Citiz boasts a 34-oz. removable water tank for easy filling, a 19-bar pump and a swivel cup tray so that you can brew into tall or short glasses. It lists for $299, but is widely available for less than $200, which is a bargain when you consider that, if you buy them separately, the Citiz and the Aeroccino will cost you nearly $400. The Nespresso Citiz uses pods from Nespresso and other compatible coffee pods, and the used capsule tray holds up to 10 spent capsules, so you can make coffee all day long without having to deal with the waste. The machine gets generally good consumer and expert reviews. The convenience and flavor make this machine a good choice for people who don't want to deal with grinding, measuring or tamping.
Swiss Style Krups XP601050 Stainless Steel Espresso Machine
This Swiss-designed espresso maker packs a lot of value and style into a very affordably priced – about $170 – package. It's one of the few budget espresso machines to feature a stainless steel housing and thermoblock heating system, which delivers exceptionally consistent temperature. It boasts a number of other features that you typically only find on much pricier machines, including a cup warming grid, double spout and a hot water function for turning your espresso shot into an Americano. The universal portafilter basket holds either pods or ground coffee, making it both versatile and convenient, and the steam wand is conveniently placed. The die cast stainless steel housing has a very European industrial feel to it, making it a great fit for the modern kitchen. The Krups XP601050 gets great ratings from barista professionals, who rate it as an excellent machine for someone who isn't concerned about having lots of customizable settings.
Bold and Beautiful Gaggia Espresso Color
The Gaggia Espresso Color features a stainless steel boiler, 15-bar pump and bold, bright red ABS plastic housing for a stylish appearance. The Gaggia name has been synonymous with espresso since the very beginning, and the Espresso Color is a great choice in the low price home espresso market. The heavy brass group and portafilter holder offer excellent heat retention to brew an excellent shot of espresso, and the wand attachment features a Panerello steam attachment for easy frothing. The steam wand also doubles as a hot water dispenser for Americanos and tea. The Gaggia Color arrives with three portafilter baskets – a single, a double and an ESE pod basket – so you can brew your choice of coffee easily. For style, ease of use and quality of espresso, the Gaggia Espresso Color can't be beat as a machine in the sub-$200 price range.