Saeco Via Venezia Espresso Machine
I have been moping around the house for weeks because my coffee maker died on me. You have served me well for so many years, so rest in peace my dear Saeco Via Venezia. Rest assured I will find a deserving replacement in your place.
Pitiful it may sound but I did have to drag myself to the nearest Starbuck's just to get my morning brew on the way to work these past weeks. But nothing beats the aroma of a fresh brewing pot that fills the room and wakes me up in an instant. Is there such a thing as addiction to the aroma of fresh coffee or am I just missing my Venezia Espresso Machine?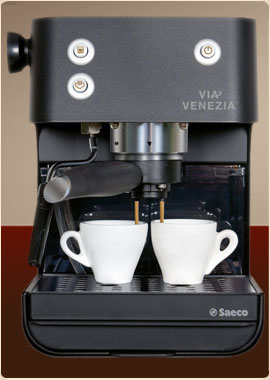 After reading all the bad reviews about the other brands of coffee makers in the market, I am not taking chances by trying and testing them. I have complete trust in this espresso machine and alas I am jumping with joy again since I have just gotten the same basic machine as replacement. My experience tells me to stick to this machine that's simply perfetto! Made by and for people with the love for espresso, the Saeco Venezia certainly makes fast and perfect espresso that suits me perfectly.
Saeco Via Venezia product features:
15 bar pump that gives enough pressure to ensure the entire coffee aroma is always fully extracted.
An easy reading control lights to show when the machine is "ready to brew" and "ready to steam"
Its patented filter holder ensures great extraction of espresso by pressurizing the brewing chamber, creating the perfect espresso-brewing element
With a pod adaptor and special filter basket that fits into the portafilter, it can handle single serve prepackaged shots or pods
Comes with steam wand and pannarello attachment to manually froth milk for cappuccinos and lattes
A pressurized filter crema that guarantees a long lasting delicious crema
An extra-large removable 68-ounce water tank for easy cleaning and refilling
The Saeco Venezia is one of the most popular manual espresso machines in the market. Its black finish is certainly one of its great draw and the entire outer case is made of metal except for the drip tray and accessories tray, promising a sturdy unit that will last with its small price tag. Its simplistic design encourages easy cleaning and maintenance. I am happy not to be bogged down by too many parts or attachments that make me go bonkers trying to identify which to use first or which needs to be fixed back again after cleaning.
Regretfully the Saeco Venezia espresso machine does not have a built-in grinder but I always have the options of using pre-ground coffee or those espresso pods as there are two types of adapters in it. As there is a pressurized brew filter on the machine to deliver the most out of my pre-ground coffee, there's no worry at all about the outcome of my espresso. Plus since it is manual, I get to customize how much espresso I want each time. Whether it's a latte, a triple-shot espresso or a quad-shot, I get to decide. This is an advantage over the automatic units where serving sizes are pre-determined. I guess this must be why many opt for this model.
To own a Saeco Via Venezia is undoubtedly an experience. I get to enjoy authentic café-style coffee right in the comfort of my own home from Americano or latte or cappuccino to macchiato any time any day.