Krups FME4-14 12-Cup Coffee maker
The Krups FME4-14 12-Cup Coffee maker distinctive design should appeal to anyone who likes quick and efficient programmable brewing when entertaining guests, or rising early in the morning. This machine produces an amazing cup of rich and tasty coffee.
Product Description:
The Krups FME4-14 12-Cup Coffee maker is a 1,000 watt, programmable coffee maker featuring auto/timer settings with various flavor settings so you get just the strength of coffee you enjoy. When done brewing there is an audible sound and after brewing the hot plate has adjustable settings from one hour to five hours, and empty pot detection, which turns the machine off.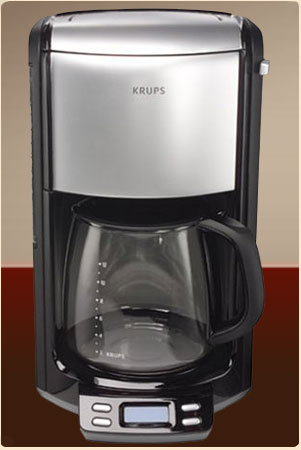 This coffee machine also features a water filtration system to prevent lime scale and remove water chlorination. It has a beautiful LED panel with easy to program features, soft ejection filter holder, and easy pouring 12 cup no drip carafe.
This unit is very ergonomic from handle to pouring spout, plus it has a great pause and serve feature that allows you to interrupt brewing to slip out a quick cup.
This is a truly efficient and stylist coffee maker that is compact and features a one-year warranty.
Pros:
We have had the Krups FME4-14 12-Cup Coffee maker for a number of months now and have found it makes a super cup of coffee and it is easy to program. We love the fact that we can pour a cup of coffee without dripping here and there, which is a rarity in the coffee carafe world. We have found the water indicator is easy to see and works well and we are very impressed with what this has to offer.
Cons:
Unlike coffee makers, we have owned in the past, we find the 1 – 3 cup option to be beneficial and unusual in the 12 cup models. It makes entertaining one or two people easy. We love the emergency empty pot shut off as this is a fire safety feature many coffee makers do not have.
Personally, I love the attractive design and sleek shape as it fits beautifully into my kitchen décor.
Cons:
The biggest complaint with this coffee maker is how cheaply the model seems to be built. We would have expected much better quality. The other big complaint is that only one side of the carafe has cup measurements, so it makes it extremely hard for left handed users and the tank barely holds the 12 cup measure so don't overflow it, as it makes an awful mess on your counter.
The Final Verdict:

The Krups FME4-14 12-Cup Coffee maker is a great for anyone who enjoys a flavorful cup. Its programmable features enhance the experience as you can rise in the morning and smell fresh coffee brewing, and the built in safety and cleaning features make this a great deal.