How to Find a Great Coffee Shop in Your Town
Finding a great cup of coffee doesn't have to be a chore. You shouldn't have to head to the local Starbucks just because you know their coffee and know that it's the same no matter where you go. You should look for the unique coffee shops that really add to your hometown. But where can you find these smaller shops? Here are some tips for finding the best cup of coffee in your town.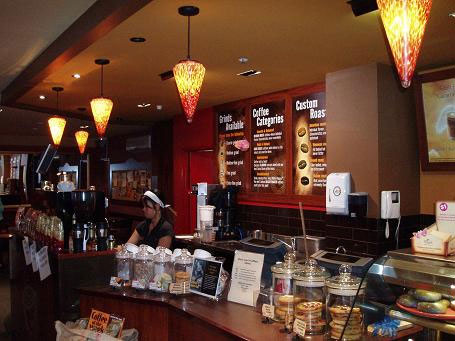 Coffee Business Types You Can Start
– image copyright @
Charlie Brewer
While you might enjoy the green and black of Starbucks, let's look for some more unique places for a cup of coffee. You can start by looking in your local phone book to see what coffee houses are listed. This will give you a general sense of where the coffee shops are in your town and where you might want to stop to try out a cup of coffee. However, you want to stay away from any coffee shops that are mainly delis or cafés as they might not spend a lot of time on picking the best coffee to brew. Try to find those listings that deal especially in coffee and possibly a few pastries.
Next, you will want to drive around the area near your local colleges and universities. Because college students tend to be coffee drinkers, there are generally a lot of shops in these areas. Look for busy intersections near the schools. There you will find a number of small, but delicious coffee shops. When you see these shops, look to see if a lot of people are there and if so, you may have found the next best coffee shop in town. Of course, if they're open late, they can also be the perfect alternative to the bar scene, offering entertainment and some delicious desserts too.
Other places to find great coffee shops are near to major shopping centers. While some of these coffee shops may be commercialized, you can often find smaller alternatives tucked away in faraway corners. Just keep your eyes open. Any place that houses a book store is also likely to have access to coffee shops, so look in these areas as well. Sometimes the book stores will even have a locally owned coffee stand in their store, so be sure to stop in to see.
You don't have to go to larger chain coffee shops to get a good cup of coffee. Often the best coffee shops are right under your nose – if you take the time to look for them. And once you start patronizing these stores, you can stop the spread of ordinary coffee and stick with the unique blend of your town.